Here's the technology I talked about in my November 2018
TRE Talk Radio Europe
'gadget guru' conversation:
Palm smartphone
Remember Palm organisers? Well, the Palm name is back – and this time it's on a tiny smartphone that saves you from taking your regular smartphone out of your pocket or bag. It weighs 62½ grams, it's 50mm wide by 97mm tall and it's 7.4mm thick. On the front is a 3.3-inch touchscreen and inside is a Qualcomm Snapdragon processor running the Android operating system. The front and back are made from Gorilla Glass 3 and the phone is rated for IP68 water and dust protection. It even finds room for a 12 megapixel camera on the back and an 8 megapixel camera on the front.
What's the point? Well, I suppose it's a bit like having a smartwatch on your wrist – except this is potentially smarter but not quite so convenient. This 'companion phone' connects to your regular mobile number, so you can leave your big expensive phone at home and just take the little one.
There are two bits of bad news for Palm fans. Firstly, there's not really any connection with the old company except the name. And the new Palm phone is currently only available from the Verizon network in the United States. So even if you spend $349.99 to get hold of one, you'll need another phone on a Verizon contract to make it work.
Facebook Portal video screen
Facebook Portal is a smart display screen that offers hands-free video calling. There's a choice of two devices: one has a 10.1-inch screen and one has a 15.6-inch screen (the bigger one is called the Portal+; it's better quality and can also be adjusted more, but other than that they're pretty similar). Both have Amazon's Alexa voice-controlled personal assistant service built in. They also have Facebook Messenger and a 12-megapixel camera, which means you can chat via video, with facial recognition enabling it to automatically zoom in on your face as you move about. So if your friends have got Facebook Messenger on their smartphone or their tablet, you can ask your Facebook Portal to call them. And because it runs on Amazon Alexa, you can also ask for sports results, weather forecasts, listen to music, do your shopping or control smart home devices. It can even be a picture frame when you're not using it.
At the moment both devices are only available for pre-order in the United States, with the regular Portal costing $199.
Google Home Hub
Facebook has its Portal, Amazon has its Echo Show, now Google has its Home Hub. This is another voice and touch controlled information centre for your house. However, unlike the Portal, there's no camera – so you might feel happier about having it in the bedroom.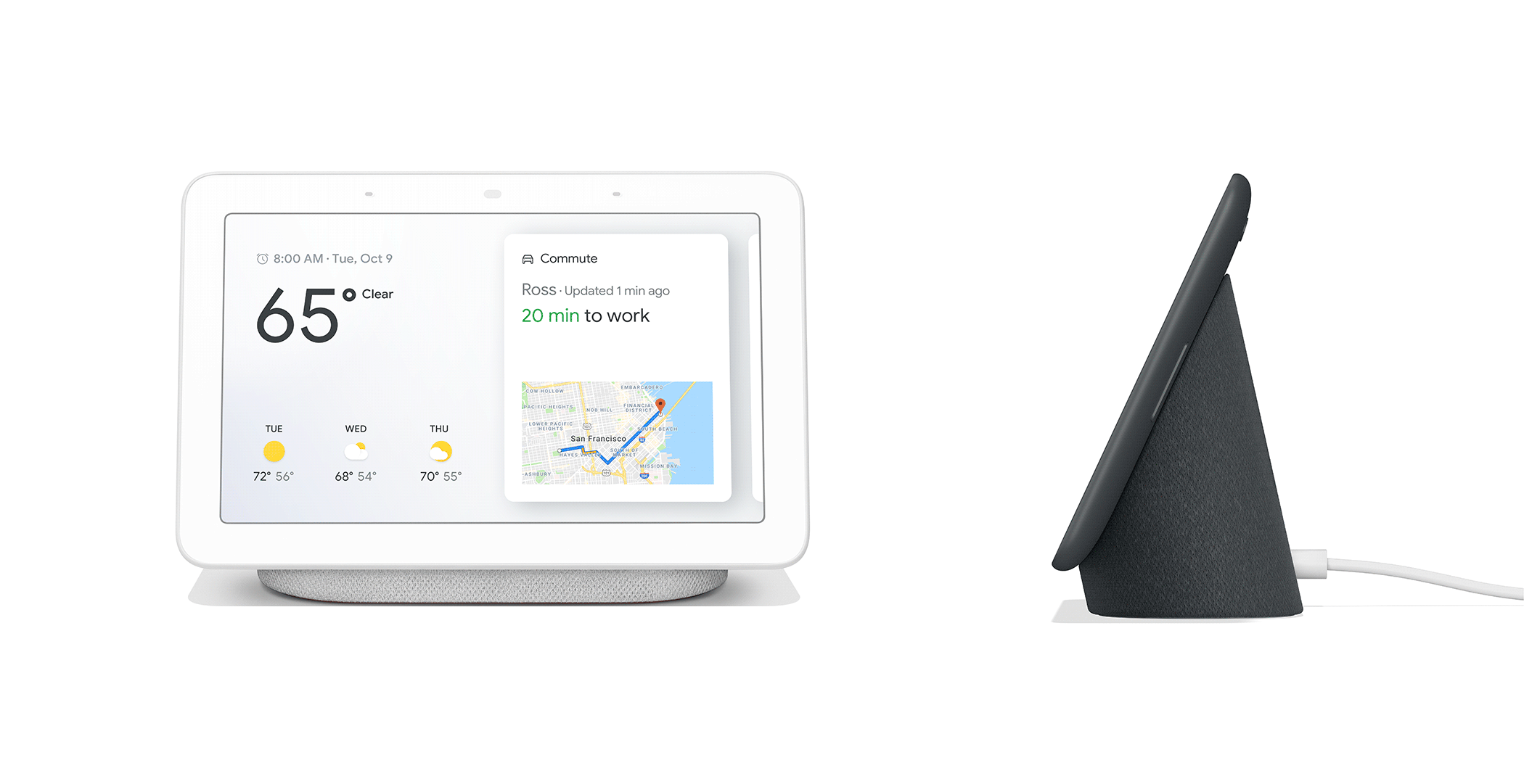 Google already has voice-controlled assistants but this adds a 7-inch screen, so you can ask it for maps, for videos, for photos, for music, for recipes, you can look at your calendar, and so on. Plus it'll connect with compatible smart home devices to dim your lights, adjust the thermostat or watch security cameras.
Google's Home Hub is currently only available in the UK (£139), the USA and Australia.
iBubble underwater drone
This is described as "the world's first intelligent autonomous and fully wireless underwater drone". It's from a French company called Notilo Plus, which specialises in underwater exploration, and essentially it's a remote-control submarine that can drive itself.
You fit your camera inside, strap on your special wristband and the iBubble will follow you underwater for up to an hour and down to 60 metres - almost 200 feet - without bumping into things. You can tell it to follow you, to go ahead of you, to film from the side, to circle around you, to come to you or to stay still. It can also be connected to an optional cable and directly controlled from the surface using an app on your phone or tablet.
The retail price of the iBubble is $4,099 (around €3,600), excluding VAT and the cost of a camera. It's designed to work with newer models of GoPro and other action cameras that use the same type of mount.